Keeping you connected.
Fall 2018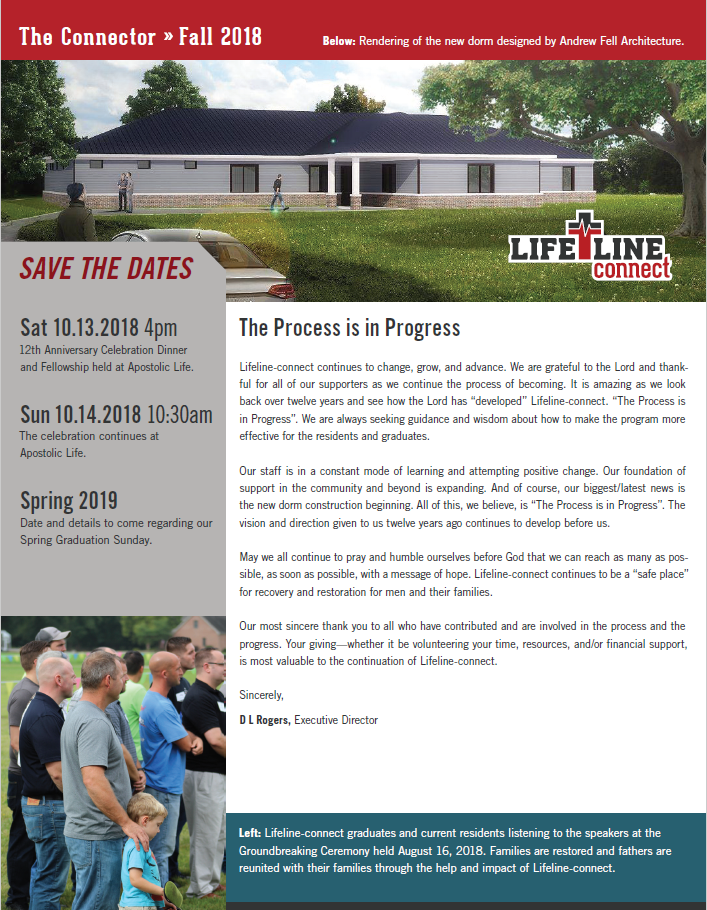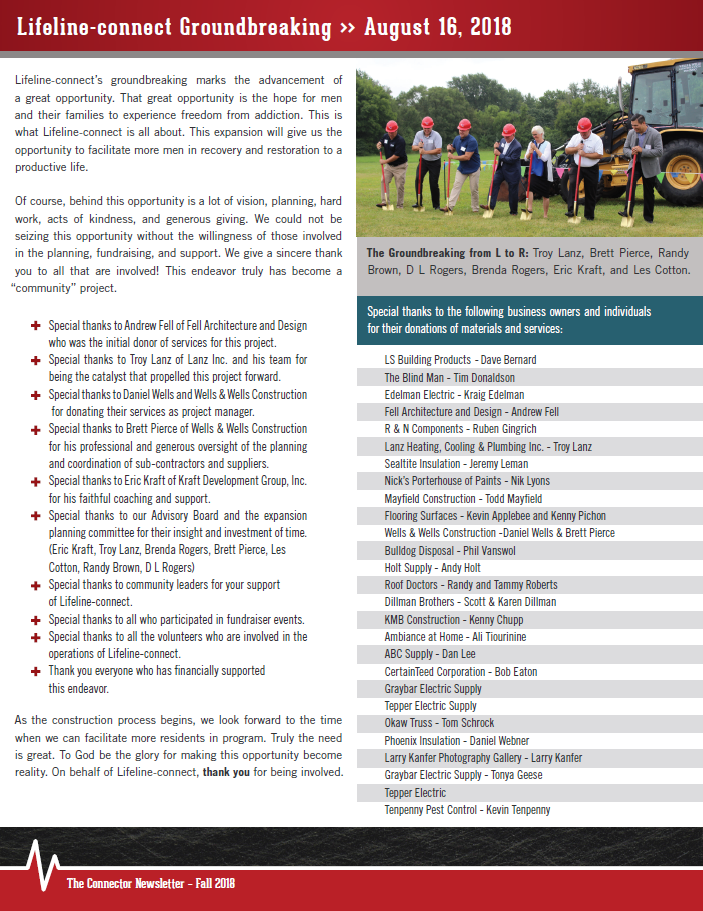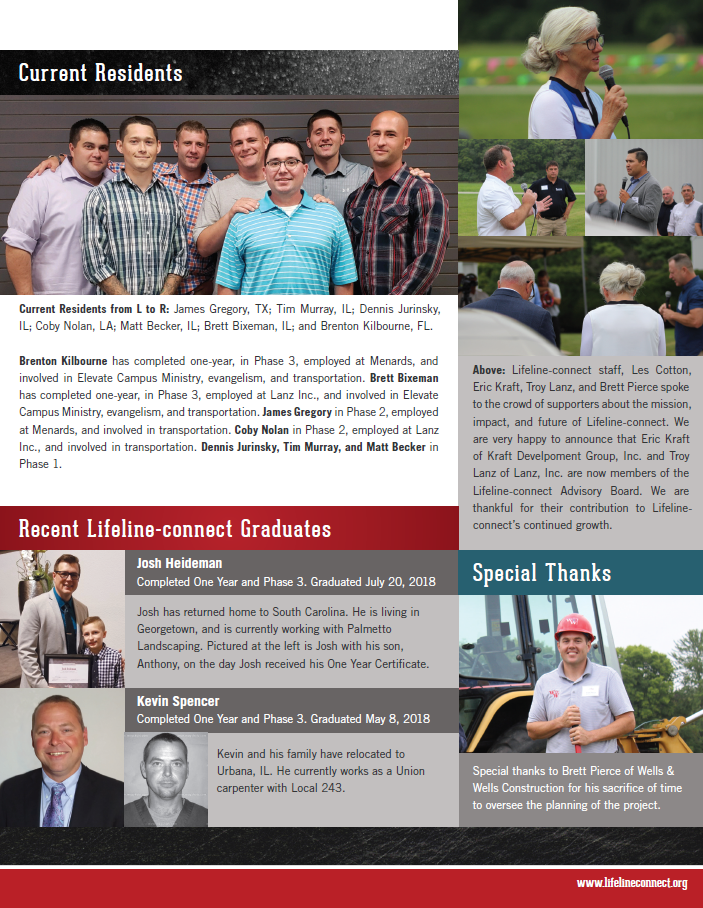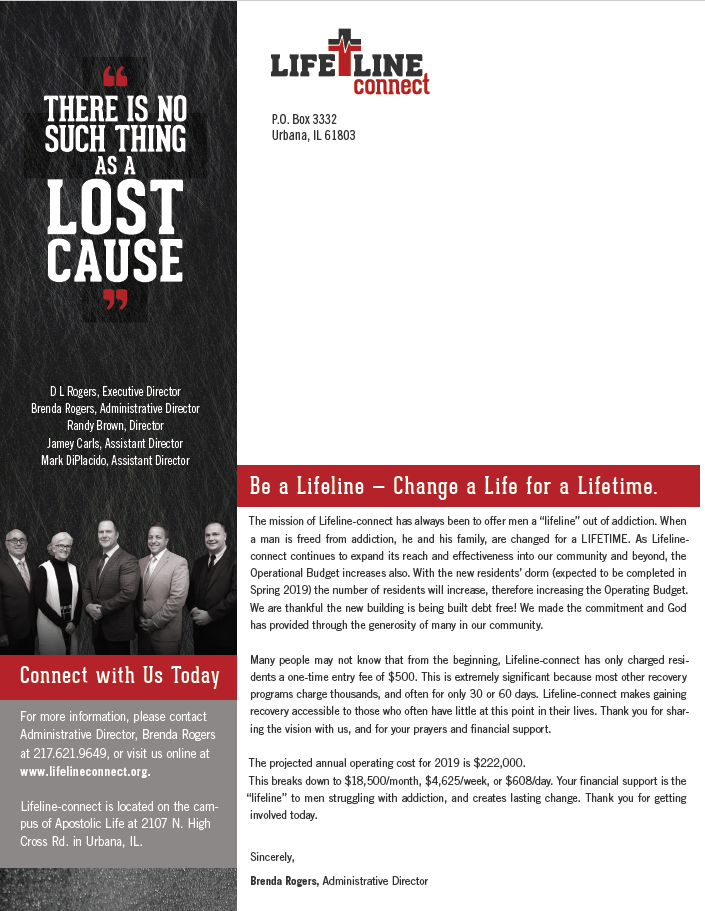 ---
Keeping you connected.

APRIL 2018
Recovery Blueprint 24 on March 16
RB24, a fundraiser underwritten by Lanz Inc., The Habegger Corp., and Mitsubishi Electric was a huge success. This banquet/auction event was attended by more than 300 and generated approximately $134,000 for the 24 resident dorm project.
A motivational message was delivered by Weldon Long, a New York Times Best Selling Author. Troy Lanz, President and CEO of Lanz Inc., led the way in organizing and sponsoring this event. Special thanks to "Coach" Eric Kraft of Kraft Development Group, Bill Yeakel and Eric Jordan of Lanz Inc., and Lifeline-connect team for making this event happen.
We're thankful for all the individuals and businesses who sponsored, attended, and contributed during this endeavor. Also, we thank all the volunteers who were involved. Funds raised get us that much closer to the construction of the new dorm. Our Current total of cash on hand, labor and material commitments, and pledges is approximately $400,000 raised. Our goal is $630,000 to be able to build debt-free!!!
---
Building Project Report
Preparation for construction of the 24 resident dorm is continuing. We are looking forward to this expansion which will enable us to provide many more men and their families an opportunity for recovery.
Several local contractors and suppliers are becoming involved in the project. Wells & Wells of Champaign is the project manager and is coordinating all the sub-contractors for the project. The blessing is that they are doing this at no cost. Special thanks to Daniel Wells and Brett Pierce who are overseeing the planning. Troy Lanz of Lanz Inc. continues to lead the way in the promotion of this project throughout the community. Andrew Fell of Fell Architecture is providing his services at no cost also. We are overwhelmed by the generosity of these and several other contractors and suppliers that are joining in this endeavor. (A complete list of participating contractors, individuals, and suppliers will be published in a future Connector.)
While construction plans are proceeding rapidly; fundraising activity is as well.
"Connecting Coast to Coast", a motorcycle ride fundraiser, is scheduled for May 27th – 31st. Yes, from LA to DC! The route comes right through Champaign-Urbana! We are encouraging riders to register and participate by generating sponsorship for whatever portion of the ride they would like to do. We hope to raise $100,000.00 with this event. (For more information, to join the ride, or to donate, please go to www.lifelineconnect.org).
We thank all of our financial supporters who enable us to continue this ministry and we are grateful for all those who are getting on board with the building project. We anticipate a ground-breaking date to be announced soon.
D L Rogers
Executive Director
Below are pictures from the Fundraising Banquet and Auction held at the Urbana Hilton Garden Inn on March 16, 2018.
Keynote Speaker Weldon Long talked with Lifeline-connect residents, staff, graduates and Lanz
leadership in the morning of March 16, 2018 at Apostolic Life in Urbana.
New York Times Best Selling Author, Weldon Long, with Lifeline-connect staff, current residents, and graduates employed by Lanz, Inc.
Weldon Long listens to Lifeline-connect residents share their stories of addiction.
Troy Lanz, President of Lanz, Inc., listens with Lifeline-connect graduates and Lanz employees
to Lifeline-connect residents share their stories of addiction.
The Lifeline-connect residents and graduates opening gifts. Weldon Long is the author of "The Upside of Fear" and "The Power of Consistency".
Troy Lanz and guests at the Recovery Blueprint 24 Fundraising Banquet and Auction.
Lifeline-connect graduate, Brian Doubek, and Administrative Director, Brenda Rogers, talk with
Champaign Chief of Police Anthony Cobb at the Recovery Blueprint 24 event.
Graduates and Lanz employees, Drew Cooke and Joey Trujillo, spoke at the fundraising event about overcoming their addictions and regaining their families and futures.
Director Randy Brown sharing why Lifeline-connect works with men overcoming addiction.
Executive Director, D. L. Rogers, talks with Lifeline-connect supporters, Andre's Harley Davidson.
Director Randy Brown shares his passion for "sitting in ditches" with men overcoming addiction.
---
Next Up: Connecting Coast to Coast
Motorcycle Fundraiser Ride
On May 27th several staff and friends of Lifeline-connect will leave on their motorcycles from Azusa St. Mission in Los Angeles, CA and ride over 2,700 miles to The White House in Washington, D.C., arriving on Thursday, May 31st. The riders are going coast to coast in an effort to raise $100,000 to expand from a 6-man dorm to a new 24-man dorm. Riders are welcome to join anywhere and ride any portion of the route. Any dollar amount raised will qualify to ride.
The exciting news is… right now we have an anonymous donor who is willing to match funds! If you would like to sponsor a rider, please visit: www.mightycasue.com/team/connectingcoasttocoast

Our 5-day trip is as follows:
5/27/18 523 miles Azusa St. Mission, Los Angeles, CA to Winslow, AZ
5/28/18 550 miles to Amarillo, TX
5/29/18 544 miles to Springfield, MO
5/30/18 532 miles to Richmond, IN
5/31/18 524 miles to The White House, Washington, D.C.
For more information, to register, or donate: please contact, Vince Sims at 217-519-0165 or email at vincent.sims@rocketmail.com or visit: www.lifelineconnect.org
---
What started your addiction? How long were you in addiction?
I came from a broken home with a lot of abuse and abandonment. I projected what happened in my past into my future and didn't think that my life would get any better. When I was 12 I started drinking and when I was 14 I started using drugs. I was in my addiction with brief periods of sobriety until I came to Lifeline-connect.
What was your "bottom"?
Well, I the thing is that my bottom wasn't even the worst part of my addiction, but starting to come out of the worst part of my life. In 2006, at the worst part of my addiction, God instantly delivered me from the physical addictions in my life, but all the emotional baggage that drove my addiction was still there. The things that drove my addiction slowly started coming back up and taking over my life. Before coming to Lifeline-connect, I could no longer stop myself. It was like I was watching a movie and I was just along for the ride. I didn't want to do those things, but I couldn't stop. I thought that maybe if I stayed in church long enough God would deliver me like He did before, but that didn't happen. I saw where my addiction was taking me and I knew I had to get help before it cost me, my family, and my life.
How did you find out about LC?
Director Randy Brown came to WI for an Understanding Addiction symposium and I heard about the symposium through a Celebrate Recovery group at my church. I went to the symposium not really expecting anything to happen or to find hope. I showed up high and Director Brown was reading my mail. He explained why I did the things I did. I thought that there was just something wrong with me and I was just going to be an addict the rest of my life. When he started talking about Lifeline-connect, I knew that I needed it if I was ever going to be free from addiction.
When did you begin to experience change? Were there any specific factors that played a part in the change?
I began experiencing change at the symposium in WI. At the symposium God gave me hope for my future and hope that I really could be free from addiction. The biggest factors were that I truly had a safe place that I could be broken. I was surrounded by men that loved me enough when they didn't even know me to call me out on my junk. For the first time I found out what real accountability is and means.
What is contributing to your ongoing success?
The biggest thing is staying connected and accountable to other graduates in recovery, spiritual authority, and the church. Deciding to move here was the biggest and best way to do this. No one does recovery like here. No one does accountability like here.
What are your goals and aspirations now?
Currently, I'm employed at HL Precision of Champaign and my goals are to get back into engineering like I was doing before program and launch my own business in a few years. I want to get trained in doing one-on-one Genesis so that I can give back to the program that saved my life. I want to walk in everything that God has for me and continue to walk toward my purpose, and fears.
How has Lifeline-connect changed your life?
Lifeline-connect has showed me that God has not given up on me even though I had given up on myself. It has brought healing into my life that I never thought I would ever get. It's showed me how to have healthy relationships in my life and restored some broken ones. It has given me the strength to face my fears instead of running from them. It has showed me that recovery is a process and has given me the tools to be successful in life.
How can our supporters pray for you?
Pray that God's will be done in my life, not mine, but His. That I continue to trust Him and face my fears. I don't care what else happens or what I have to go through because I know that if I'm in the middle of His will I will have peace that surpasses all understanding.
What would you say to a family member of someone who is going through addiction?
Don't take their actions personally because they're not. Give them a bottom to hit and let them hit it. Call Director Randy Brown.
What would advice would you give to an addict who is looking for help?
There's no such thing as a lost cause, and call Director Brown.

---
---
For more information, please contact Administrative Director,
Brenda Rogers at 217-621-9649.